COVID-19 Our Rules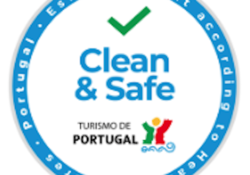 Dear Customer(s),
The well-being and safety of our guests and our Team are our top priorities. That's why we think it's important that, before booking at any Unit, you can find out about their Policy regarding the COVID-19 Pandemic.
For our part, we have implemented a Protocol dedicated to the exceptional health situation we are experiencing, in accordance with the strict recommendations of the SNS and AHP (Association of Hotels in Portugal), as well as adhered to the "CLEAN&SAFE" seal created by Turismo de Portugal. This Protocol has been adapted to government changes on this matter.
(Last Updated: July 15, 2021)
INTERNAL PROTOCOL
(Non-exhaustive list of implemented measures)
1. Our team has had the necessary training on their own protection and protection of customers, as well as on our Cleaning and Disinfection Procedures for rooms and all common areas.
2. In order to streamline the check-in process, Customers must, at the time of booking, fill in and send by email, the Guest list, as well as the respective identification documents.
3. From July 15, 2021, it is mandatory at check-in, to present the Covid19 Digital Vaccination Certificate or, alternatively, a PCR test (up to 72h in advance) or antigen test (up to 48h in advance ), mandatory that we inform customers in advance by email. If, for any reason, a client is not equipped with any of those verification instruments, we may provide an antigen test, and for this purpose the client must inform us within 48 hours of this situation. If these admission procedures are not complied with, it cannot be carried out.
4. If you don't have a mask with you, we provide each Customer with a protective mask.
5. We installed an acrylic protection on the reception desk.
6. The use of a mask is mandatory for any Employee, when in contact with Customers, who must also wear a protective mask at the time of Check-in, keeping a distance of at least 2 meters.
7. Hydroalcoholic gel is available, both in the dining room and in the pool lounge, so that you can regularly disinfect your hands.
8. Our rooms (all with direct access to the outside) and common areas are cleaned and disinfected based on a strict Internal Protocol and in accordance with DGS Guidelines, using certified products.
9.Our room cleaning staff will use a mask and disposable gloves whenever they enter the room.
10. We ask customers that in the morning, before leaving the room, open the window for ventilation.
11.In addition to the disinfection mentioned in point 8., we have ozonizer equipment with UV light, which we use whenever there is a check-out. These equipments, in addition to air purifiers, destroy any and all Viruses (including Corona Viruses), Fungi and Bacteria.
12.Between each Stay, we have established that there is always at least one day of break, in order to ensure the correct application of our Internal Protocol.
13.Our pool water is treated with chlorine (reinforced at this time) and its PH is checked daily.
14.In case of Full Rental with the use of the kitchen by the guests, the garbage bags must be placed in a proper place and properly closed.
15.The laundry service is temporarily unavailable.
16.Guests may choose not to have room cleaning service (included) by our team during their stay.
17.The Breakfast Service, which is an option in the "Full Rental" regime, will be provided in the form of a buffet. Our staff will only return to the room for airing, cleaning and disinfection after everyone has left.
18. Whenever Customers choose the breakfast service, or any other service related to taking meals, each table will have a maximum capacity of 6 people inside. If you do not need this type of service and have access to the kitchen for all meals without Herdade Agua D'Alte support staff, we advise customers to do the same.
19.Any Guest has the obligation and civic duty to report any suspected case of Covid-19 infection, which must remain in their room, until guidance is given by the SMS on what measures should be taken.
20.During the stay, any guest of the Group requires our prior authorization.
These measures may change as the state of the pandemic evolves.
Know that with us you will be Safe. We are here for you and for you.
We wish you a great stay!
Best regards,
Cristina Silva and Costa
Owner and General Director